As soon as we saw photos of this incredible laundry project, we knew we had to share it with you. With a materials palette including walnut joinery, concrete-look floor, brushed gunmetal tapware, VJ and our moss green splashback tile… this laundry is anything but bland.
Turns out there's even more to love about this space than meets the eye. Read on for our chat with lead Interior Designer and founder of Birdblack Design, Sarah Nolen.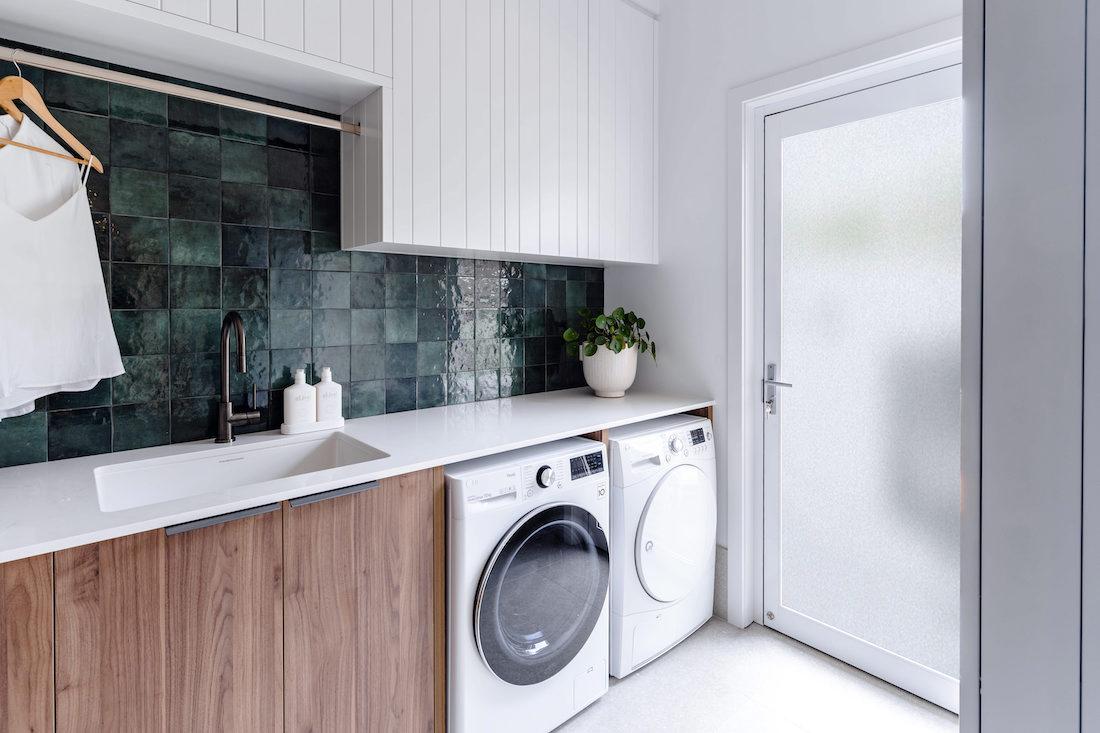 Tell us about the brief for this project.
"We were engaged by a client in Sydney to transform their older house into a modern, family-functional home. It's a house they plan on staying in for some time but the layout wasn't practical," explains Sarah.
"Their existing laundry was a detached dwelling outside. So you can imagine trying to do the laundry with babies going out in the dark to an uninviting space wasn't practical.
"Bringing the laundry inside was a priority. We designed an extension that encompassed a new bathroom, ensuite for the master and made it possible to bring the laundry back into the home."
And what a stunning laundry! How did the design for this laundry evolve?
"We always start with a functional layout and then look at finishes.
"The priority was making this laundry practical for a family so the placement of everything was carefully considered. We also designed clever custom joinery, such as that laundry hamper that's 2-way so it's accessible from the master bedroom [to put dirty clothes in] and laundry.
"We wanted the laundry to feel spacious so we looked at maximising natural light, which is why we installed the frosted glass door. Contrary to popular belief, you don't have to use all-white to make a space feel larger," says Sarah.
"Embracing warm tones and using the principle of balance also creates a sense of space. I achieved this by using the walnut finish for the full-height and base cabinetry combined with the white VJ on the overheads. This helps grounds the cabinets while creating balance."
Shop this laundry look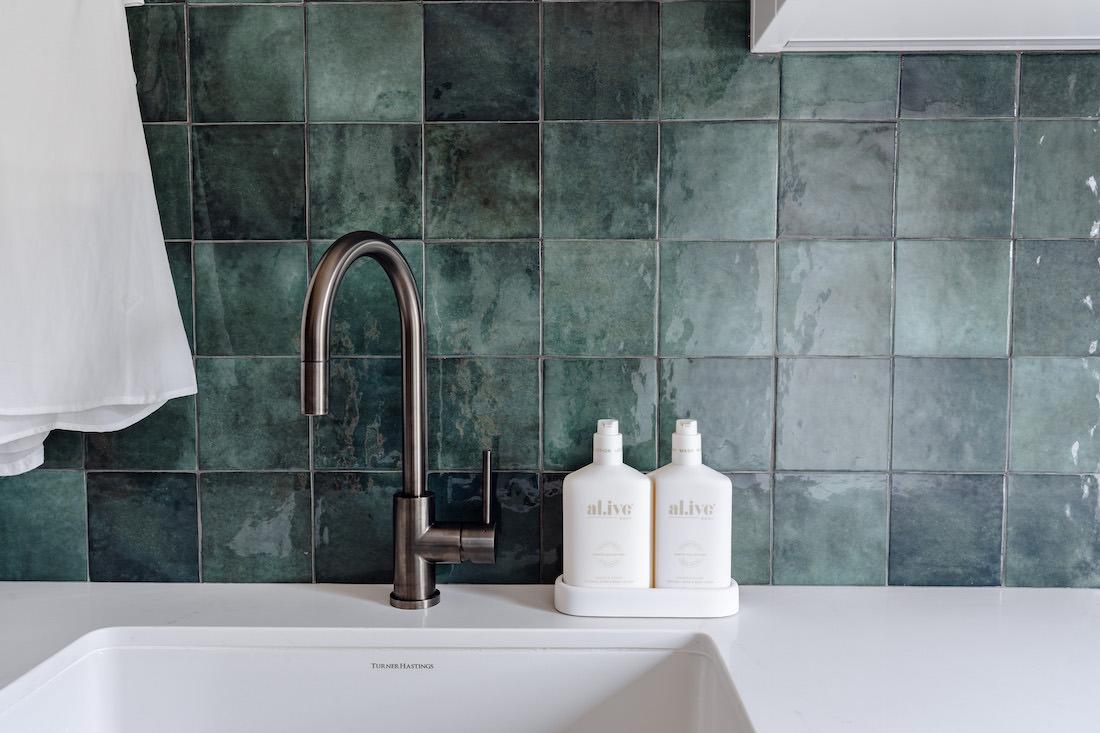 What is your favourite element of this laundry project?
"Definitely the splashback tile — it's the hero of the space. If you substituted it out, this laundry wouldn't be special," says Sarah.
"Having that pop of colour across the horizontal plane of the laundry is what makes this space so successful. The client can happily leave the laundry door open," she laughs.
"Square is the more modern look. Even though it's '70s, it's very now. The tile just slotted into the space so well, even how it carries up behind the clothes rail."
Tell us your top 3 tips for anyone about to embark on a laundry renovation.
"Seek professional advice. In a laundry, it's such a functional space and it needs to be done right. A designer will consider every detail, like including power points in broom cupboards for a stick vacuum to charge, pull down ironing board and plenty of other smart storage systems. The advice of a designer will benefit you in the long run.
"Certainly consider your family needs and how you will use the space. If you're a sporting family, you may want to include an additional hamper for muddy clothes. Or if your children are in school, incorporating a bag drop zone is practical and will help keep the space clutter-free.
"Finally, be bolder with your materials and finishes. If you look at my portfolio, you'll see I'm not one to create all-white rooms. Colour and texture is what I'm all about. This is another area where engaging a professional pays off. For example, we created a 3D render of this laundry so our client could visualise how all the materials would come together, giving them the confidence to go ahead with the finishes we selected."
We couldn't agree more! Thank you Sarah for sharing this project and your top laundry tips with us. For even more design inspo, be sure to follow Birdblack Design on Instagram or check out their impressive portfolio online.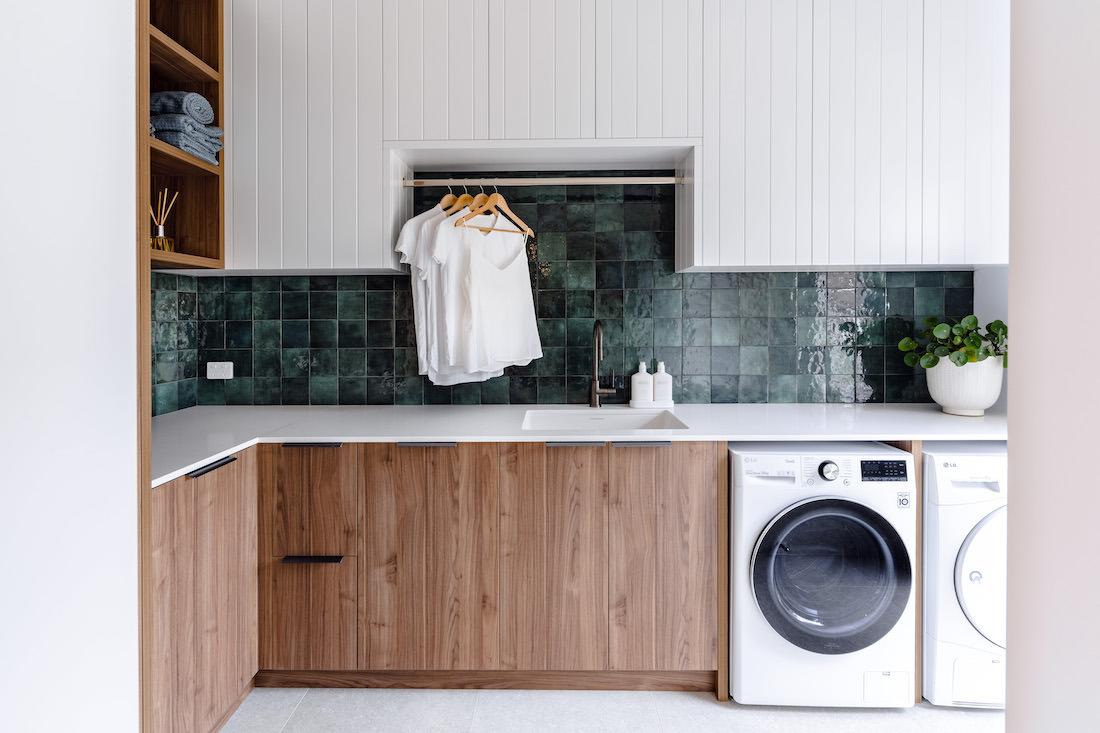 Interior Design: Birdblack Design
Build: Warwick Wright from Smith and Sons Castle Hill
Joinery Manufacturer: Masterfix Projects
Shoot Stylist: Birdblack Design
Photography: Better Together Photography Co