The design trend of 2022 is natural luxury. Celebrating high quality natural materials, this aesthetic strengthens our connection to nature. Achieve the look using natural surfaces, such as stone-top table furniture, terracotta home decor, and of course — natural stone tiles!
With more types of natural stone tiles available than ever before, let us share with you some of our newest arrivals. These are available in our Canberra tile showroom and will be available online soon (until then, you can contact our friendly team at hello@tilerepublic.com.au to place an order).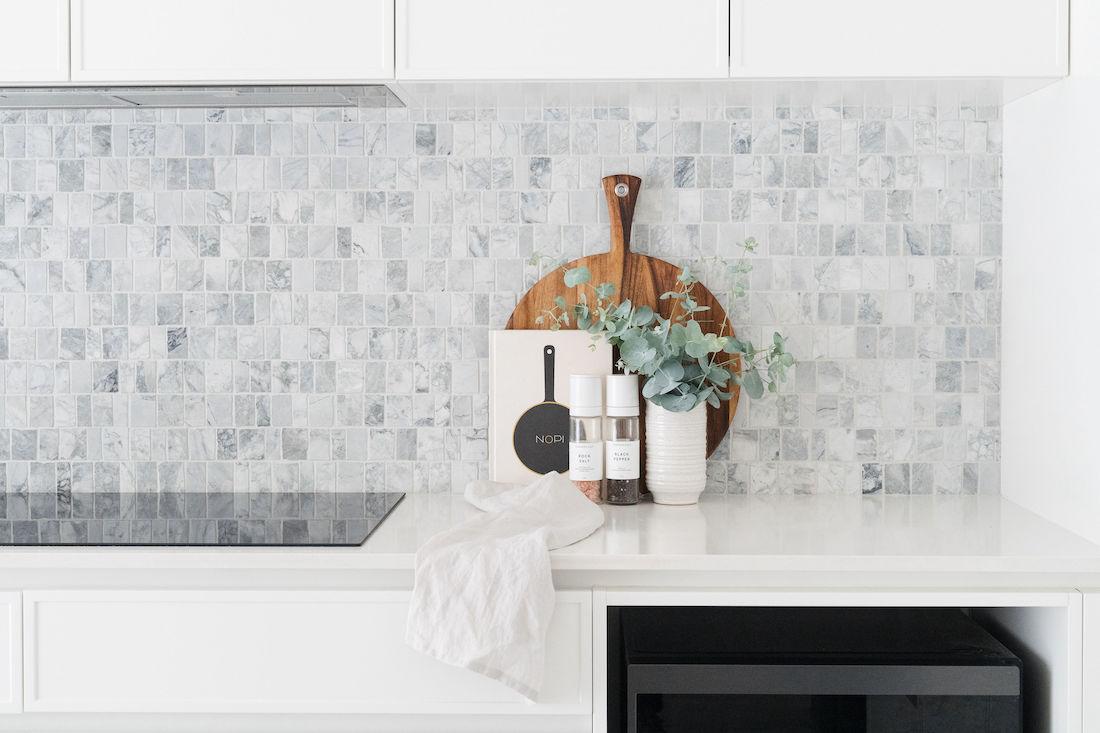 Olivetti mosaic tile
Artisan cut and arranged onto mosaic sheets, our Olivetti range of natural stone tiles has a unique and mesmerising quality. Reminding us of European cobblestone streets, this tile will bring a sense of organic luxury to your space.
Pictured below in Super White, this collection also includes Travertine Classico, Carrara, Calacatta Oro, Tempesta Verdi, and Viola Oro. So from various white marbles, to the dreamy pinky-purple tones of Viola Oro, to the intense jade green of Tempesta Verdi, there's plenty of colour choice.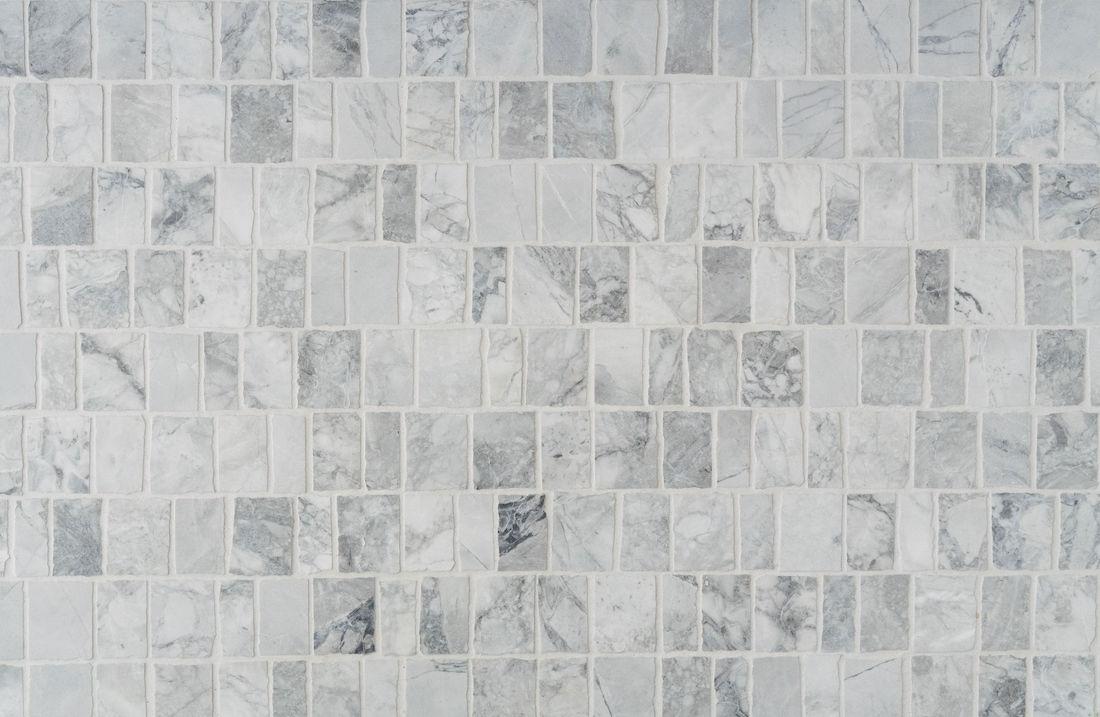 Stone flute mosaics
We know we shouldn't play favourites but the natural stone flute rang is just too beautiful! Also known as cove tiles, they are available in regular and mini sizes, in various natural stones. These tiles look incredible clad around a fireplace, kitchen island or custom pillar leg furniture.
Pictured below in honed Roman Travertine, honed natural stone achieves a raw, porous and imperfect finish, adding depth and visual intrigue. Our flute range is also available in Carrara, Rosa Portogallo, Limestone, Calacatta, Ming Green, and New York natural stones.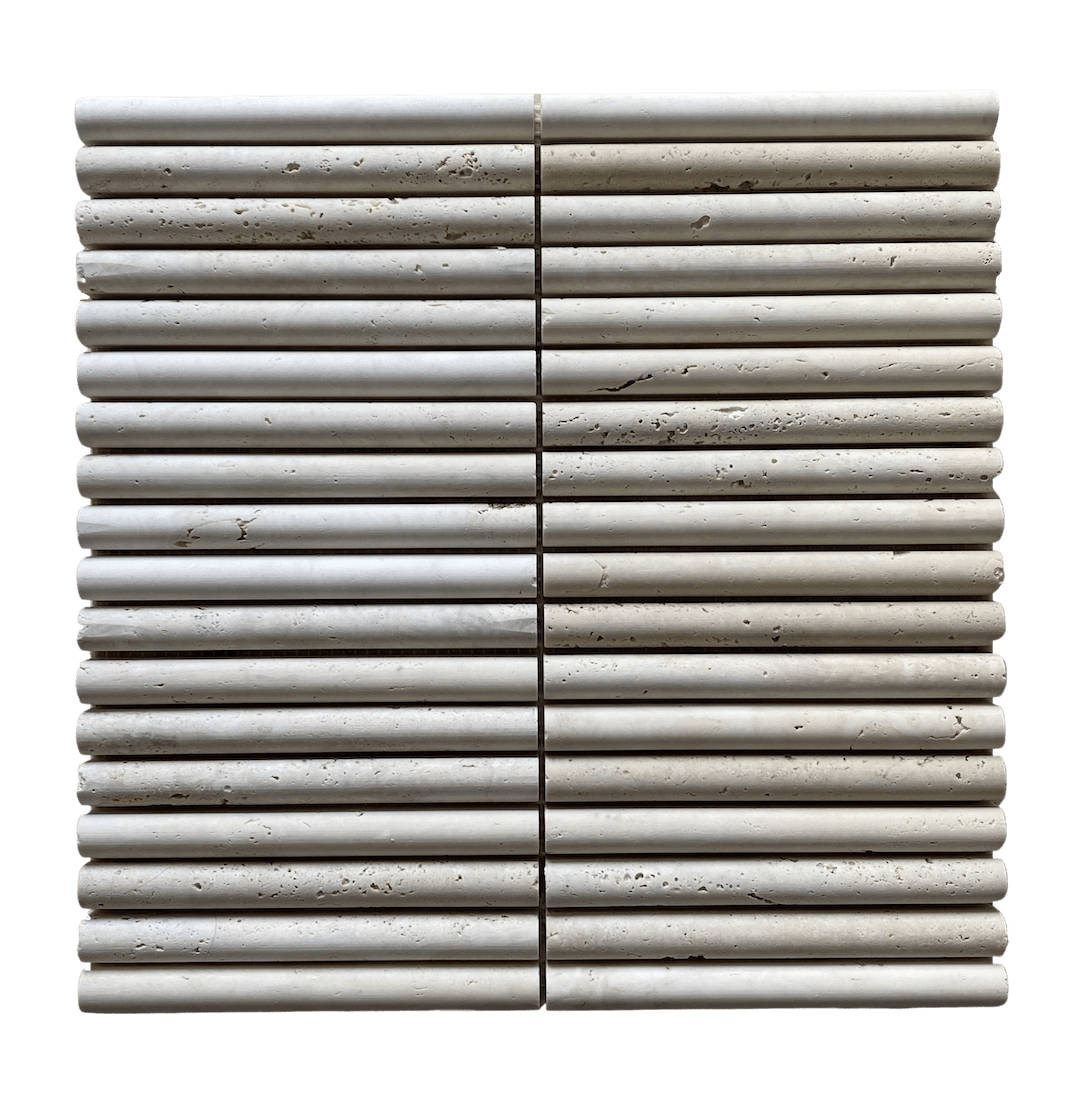 Pill or Tic Tax mosaic
Our ever-popular Tic Tax range of natural stone tiles can be used in small doses to achieve major impact. Available in 12 colourways, this tile is suitable for floor and walls. You can explore our Tic Tax range online here.
The team at ACT Renovations used our mixed Tic Tax to create this luxurious bathroom. Executed to perfection, this project has just been nominated as a finalist in this year's MBA Excellence Awards.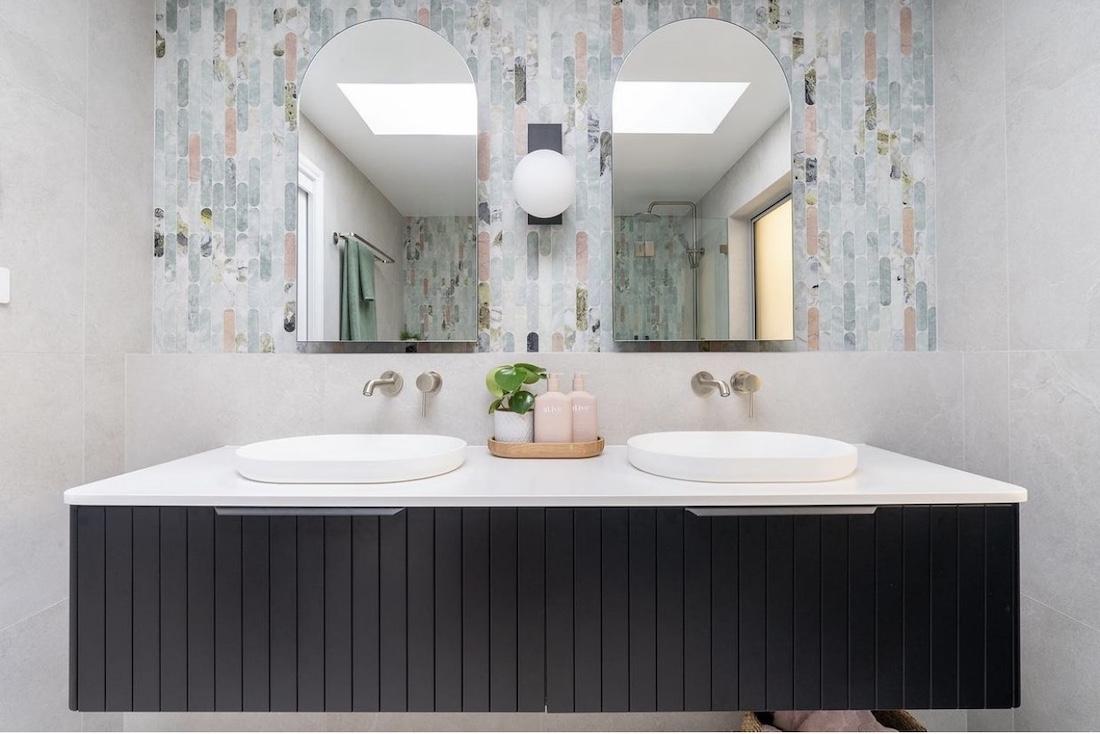 Incredible bathroom by ACT Renovations featuring our mixed marble Tic Tax mosaic tile and Etna moon tile
Arch, paddle pop or blade mosaic
Whatever you want to call it, this tile shape that blurs the line between a fish scale and subway is emerging as one of the most popular tile shapes of the year.
The larger pieces of stone further enhance the sense of natural variation, creating a patchwork effect of varying colours and patterns.
Pictured below in Verdi Cristallo, this tile range is also available in Carrara, Calacatta and Fiori Rosa.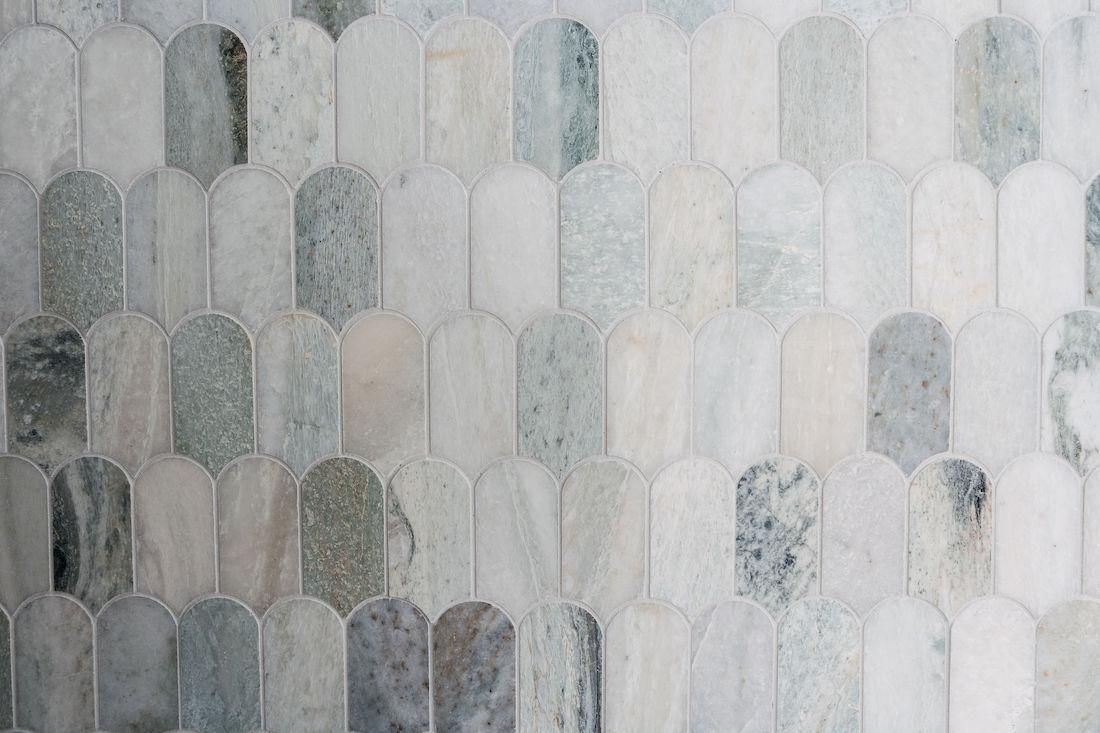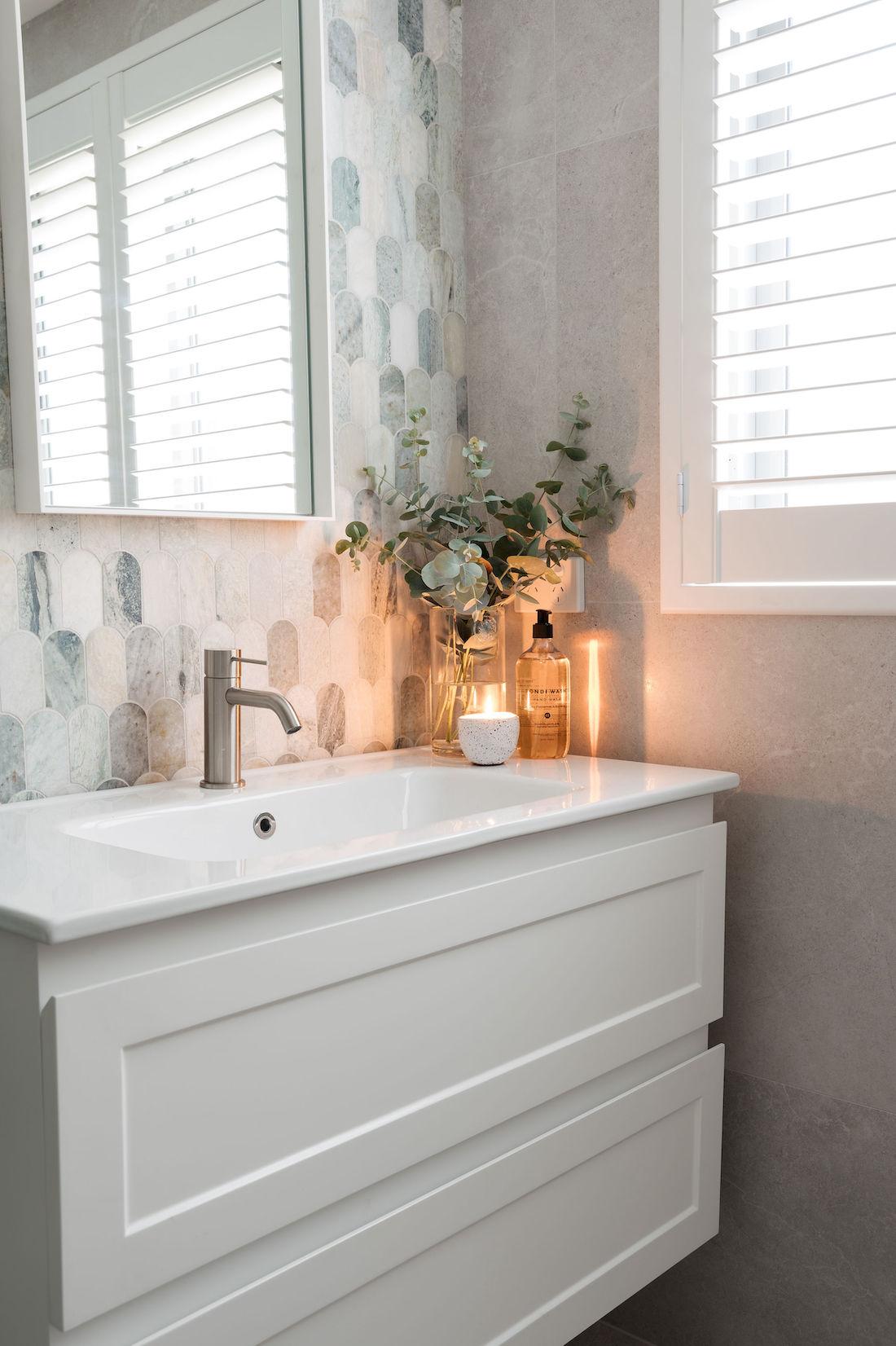 We hope this round up of our latest natural stone tiles has offered inspiration for your next project! Whether you desire rich marbles or organic and warmer tone stones, visit Tile Republic to explore our ever-growing range.