Creating an ensuite that feels like a sanctuary is a goal for many and that's exactly what Carly Dewey of She Build Homes achieved for her clients in this bathroom renovation. More than just a cosmetic makeover, this bathroom required a full redesign to improve its functionality and flow.
We're delighted to chat with Carly to find out exactly how she achieved this dreamy bathroom and to get her top bathroom reno tips!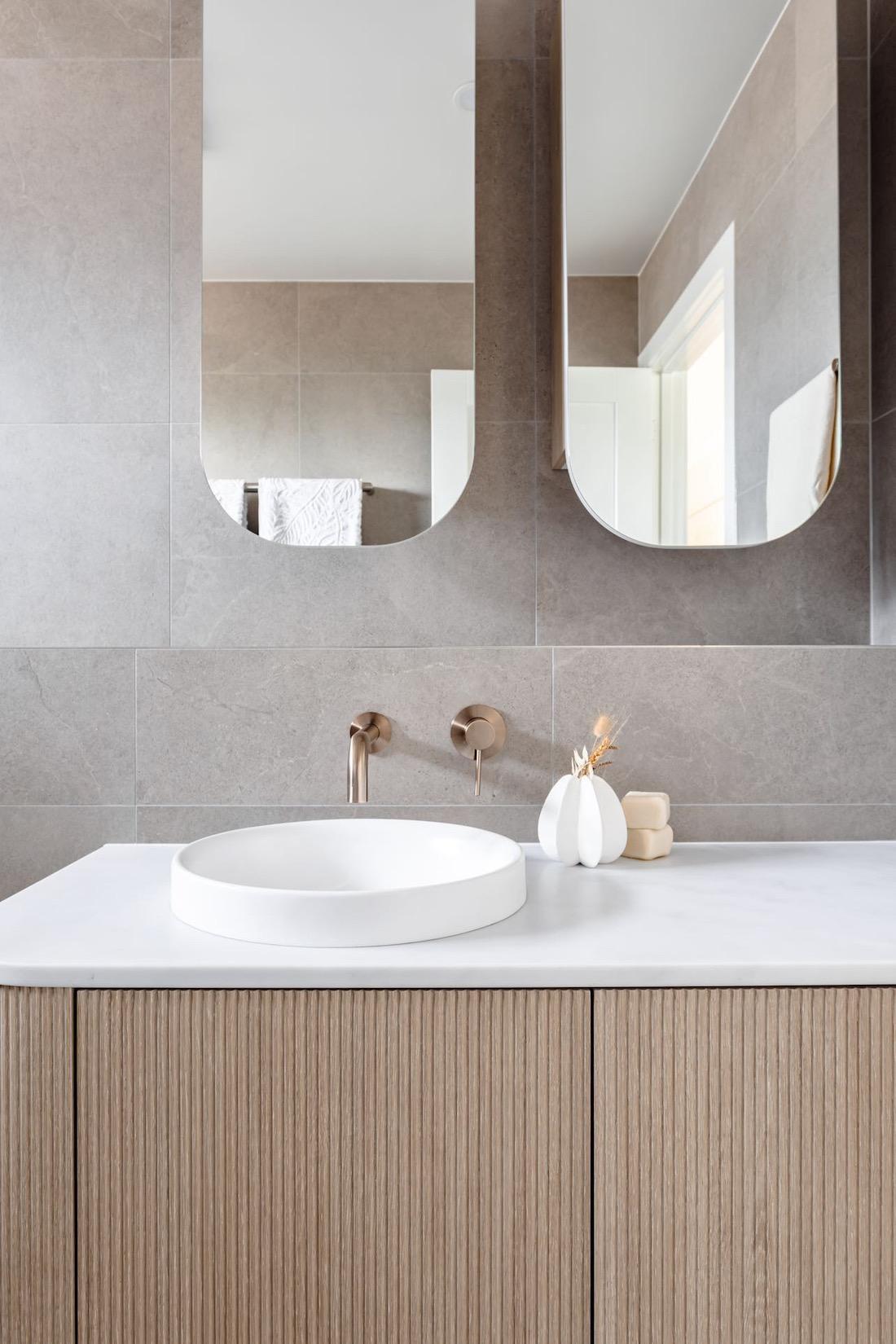 Tell us about the brief for this project?
"My clients had a typical home of its era and the biggest problem in the bathroom was its layout. A long and skinny space, everything was in the wrong place. Worst of all, the shower was cut on an angle so you couldn't even open the door to use it," explains Carly.
"The first thing I had to do was change the layout entirely. We extended the space to give us room to move and now I'll be doing a full home renovation and extension for the client," she laughs.
"I then changed the positioning of all the fixtures. For example, I flipped the position of vanity and shower. And the shower is now a generous walk-in (no awkward doors to be seen!) which adds to the feeling of luxury."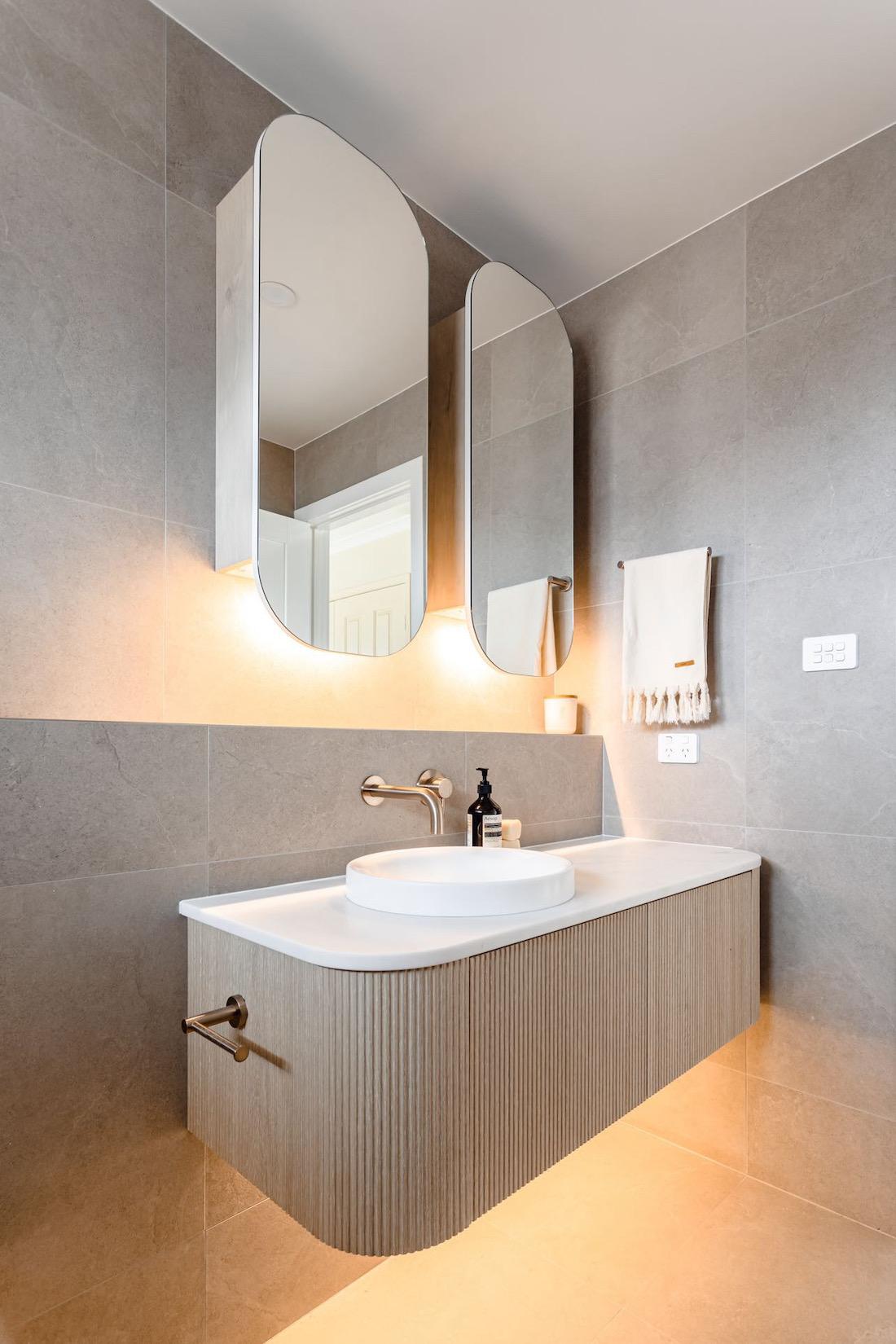 Did you have a clear design vision from the beginning or how did your design evolve?
"I have to give credit for the materials palette to my clients. They had already made a lot of selections for the space and I reinforced these.
"Something that changed was tapware. Originally, they had different tapware in mind but when we went into Tile Republic, they fell in love with the Meir Champagne range and it was like 'Stop everything, we need this to work'," says Carly.
"The tones of the brushed rose gold tapware work beautifully with the Etna Cinder floor and wall tiles. The combo really makes the space."
Were there any major challenges in this project and how did you overcome them?
"Yes!" says Carly without hesitation, "The bathroom was too small, the wrong shape and everything was in the wrong spot."
"The biggest challenge was making the half height wall work as this impacted on everything. For example, the height of the vanity, the position of the shaving cabinets and even meant we had to alter the shower to reduce the size of the mid-rail."
"It took a lot of coordination to get the half height wall to work but it connects everything in the bathroom together. It's the feature I'm most happy with — that and the use of curves in the space.
"We selected a curved vanity from Tile Republic, and shaving cabinets with curved edges, which pick up on the curve of the shower screen. These little design details were all intentional and have a big impact."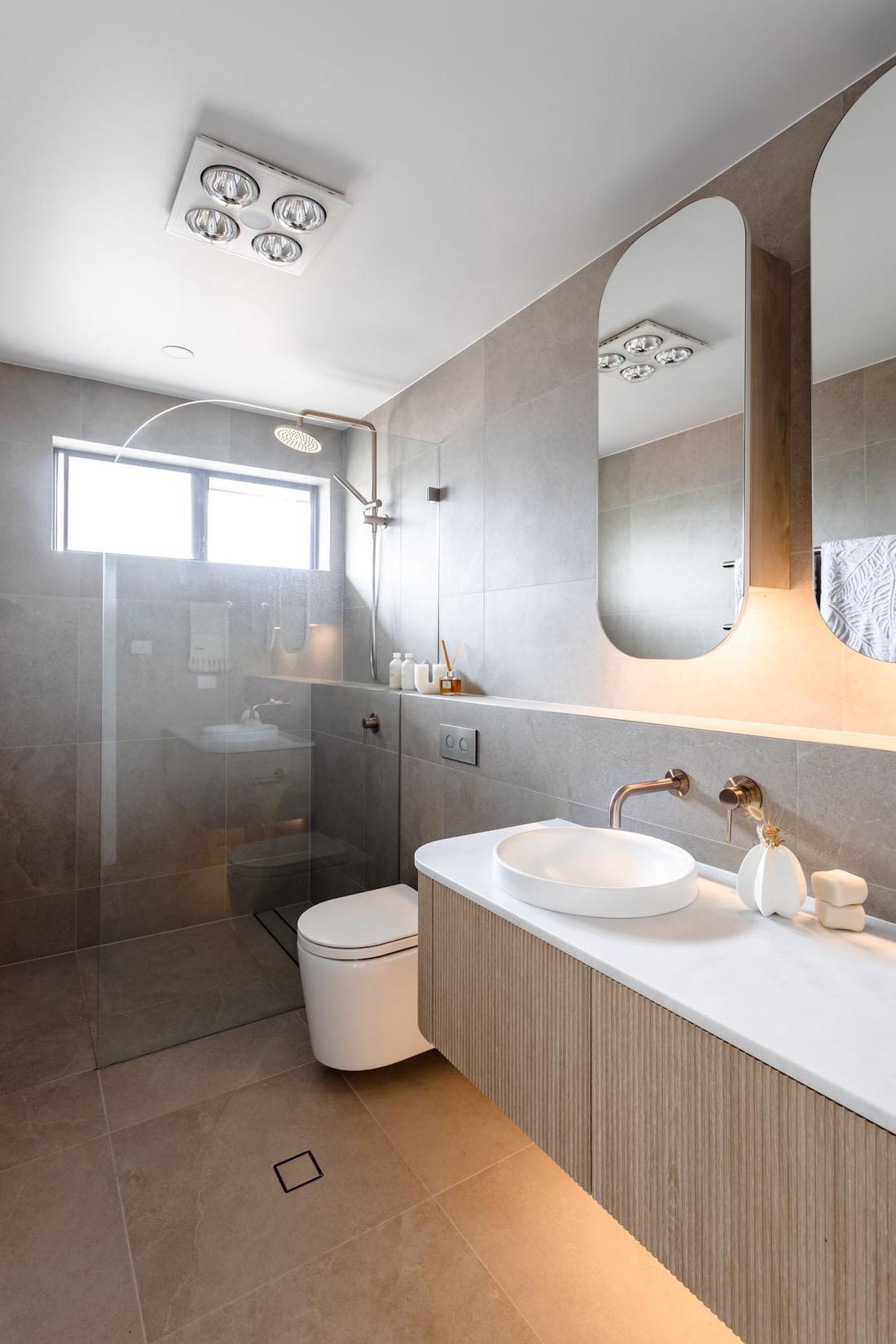 Another feature we love in the space is the use of lighting.
"My Dad is a commercial electrician so lighting is really important to me. I love the ambience of having a shower with just a little strip lighting illuminating the space. It brings in that day spa feel and is really relaxing."
We couldn't let Carly go without getting her top bathroom renovation tips.
"Planning is key. It takes an incredible amount of planning to do a bathroom renovation and my biggest tip is don't jump in before you're ready. Decide on every detail, down to the type of drain you want to use, as this impacts on the height of the bathroom. I recommend making all your selections and having the specs in hand before you start your demolition.
"It also pays to put together as many images as possible and if you can, create a visualisation in SketchUp. This way you can see if everything flows nicely. And I can't tell you how many times I've avoided issues by doing a rendering of the space. This is where you can see how all your fixtures will fit in a space — or not!
"Finally, I suggest having samples of all of your selections. Physical samples will allow you to see how all the materials work together. I've really become converted to Meir tapware — their lifetime warranty just can't be beaten."
Thank you Carly for sharing this serene tonal bathroom project with us. To see even more of her fabulous work, connect with @shebuildshomes on Instagram.
Renovation by She Builds Homes
Photography by Taylah Cunningham