Extra large porcelain panel tiles are trending in a big way. We heard Neale Whitaker say these tiles are a trend in themselves at our showroom launch and sure enough, we're starting to see them everywhere including on the latest season of The Block.
Not only do these tiles look great, they're more affordable than comparable products like Caesarstone slabs and have loads of other benefits. So let's talk about those and why you might want to use these large panel tiles…
What are extra large porcelain panel tiles?
Just as the name suggests, extra large porcelain panel tiles are large format tiles. Sizing varies depending on the manufacturer or series, but generally it refers to tiles that are at least 2400mm long by 1200mm wide – some are as large as 3200mm long by 1600mm wide.
They are available in matte or gloss finishes, and in a range of patterns, including ultra-realistic natural stone, concrete and terrazzo.
Extra large porcelain panel tiles offer a range of benefits, including they:
do not require sealing or ongoing maintenance like real stone
are durable
can be cut to any size on site (provided you use experienced trades)
are UV stable making them suitable for outdoor use
are stain and mould resistant
have many 'faces' to a series to further enhance their natural appearance
offer a clean and streamlined look
require minimal tile grout joins making them ideal for use in showers or kitchen splashbacks.
While we most commonly sell large porcelain panels for use in showers or kitchen splashbacks, they suit many other applications, including:
indoor cladding (imagine a striking entry clad in marble look porcelain panels?!)
outdoor cladding (particularly in commercial projects)
wet areas (matte panel tiles are popular for bathroom floors as we saw on this season of The Block, while matte or gloss can be used on walls)
fireplace surrounds
BBQ areas
kitchen benchtops and splashbacks
furniture.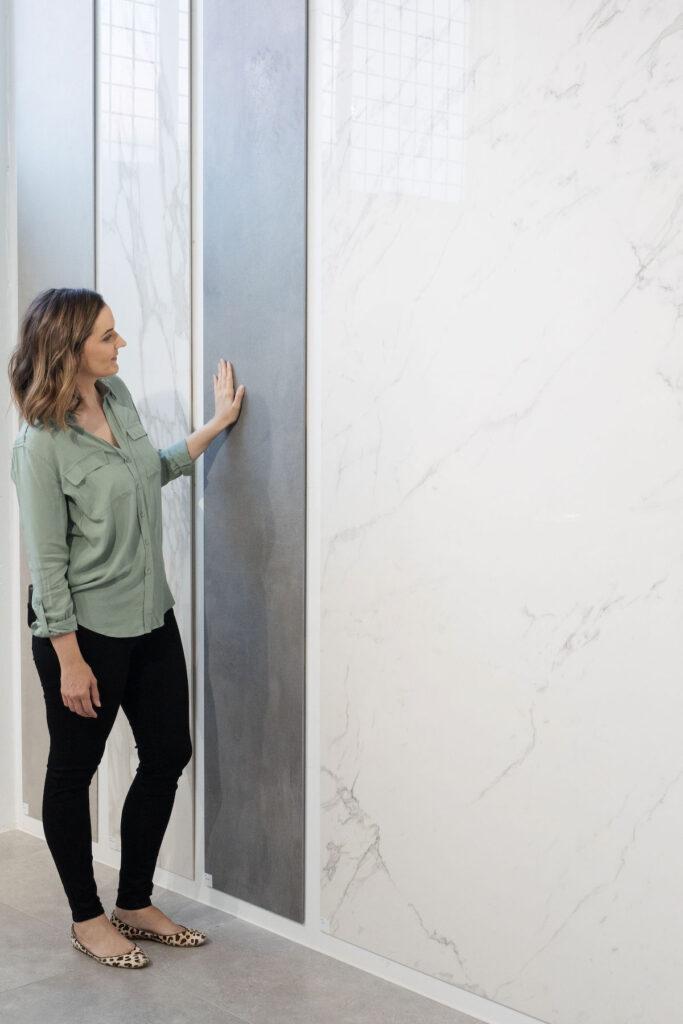 What are the key benefits of extra large porcelain panel tiles?
More affordable than comparable products
We mentioned it above but price is a big deciding factor for many of us and this tile option comes out ahead against all other comparable products. It's less expensive than natural stone slabs as well as manmade slabs like Caesarstone to buy and install (as you can use an experienced tiler rather than a stonemason to work the material). It's also less expensive than smaller mosaic tiles, such as marble herringbone tiles, to buy and install – giving you a high-impact marble look without the maintenance and we talk more about this next.
Low maintenance
One of the most appealing features of extra large porcelain panel tiles is their easy care. They look just like the world's most beautiful natural stones and marbles without the headaches these can often cause. There's no need to seal porcelain panel tiles and as they are not porous like stone, you do not need to worry about using PH sensitive cleaners or other specialty care products.
Due to their ultra-large size, in splashbacks or showers there are often no grout joins, eliminating the issue of mouldy or discolouring grout.
Less waste than standard sized tiles
Due to their large size, extra large panel porcelain tiles require minimal cutting and generate less wastage than standard sized tiles.
Heat resistance
If you're planning on using extra large porcelain panel tiles for external cladding or around fireplaces, one of the main benefits is resistance to heat. Unlike aluminum composite panels that have been heavily covered in the media for their combustibility, porcelain panels are highly resistant to heat and fire.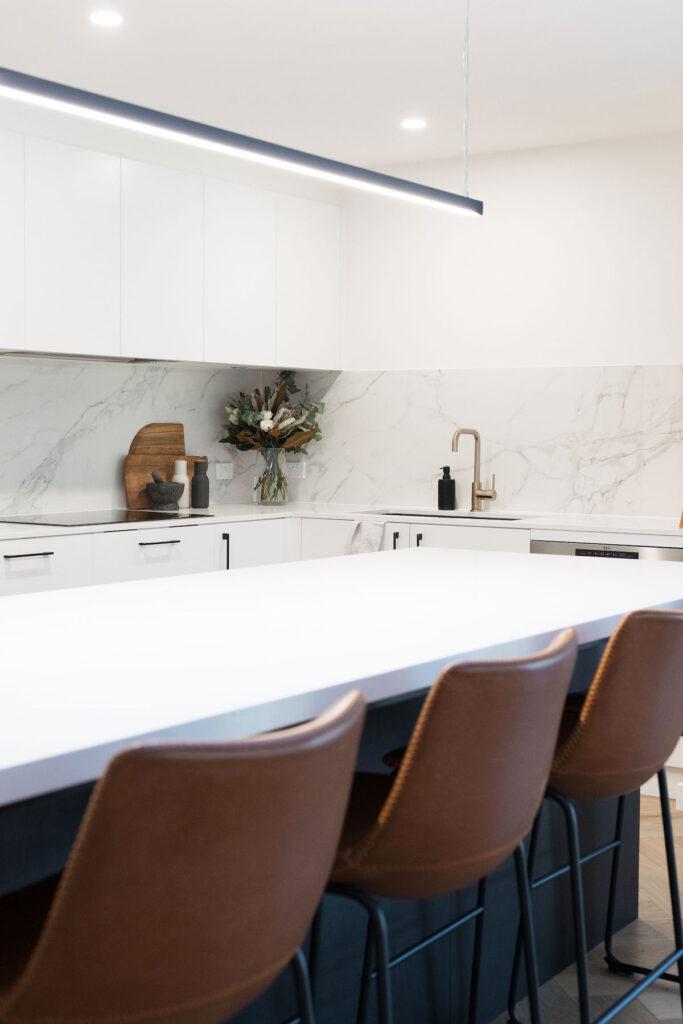 Where are they most commonly used?
Most commonly, we see extra large panel porcelain tiles used in showers or kitchen splashbacks.
Large panel porcelain tiles are more expensive than standard sized tiles so these are often areas where we find clients are happy to splurge to reap those benefits mentioned above. That being said, we have had jobs with 150 extra large panel porcelain tiles so there's no need to limit yourself!
Anything you should be aware of…
These tiles do require different equipment to work than standard tiles so you need an experienced tiler who knows what they are doing – especially because they look best with thin, clean and precise grout lines.
Do you have any questions about extra large porcelain panel tiles that we didn't cover in this article? Comment below and we'll answer you asap.